Lesson 8: Labels of some of the eu directives
In this lesson, we will delve into some of the important labels associated with European Union (EU) directives that play a key role in ensuring the proper disposal, safety, and environmental compliance of products.
The Crossed Out Bucket Symbol
The Crossed Out Bucket Symbol signifies the obligation to dispose of a product at the end of its life in a designated collection point, not in regular waste bins. Often, this collection point can be the store where the product was purchased. If a product is too small to display this symbol, it must be printed on the packaging, instruction manual, and/or warranty. Medical devices must also bear this symbol.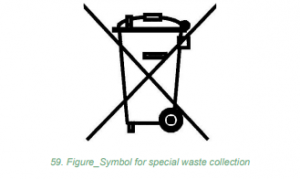 WEEE Directive (2002/96/EC)
The WEEE Directive mandates that manufacturers of electrical and electronic goods label their products. This directive was enforced from July 13, 2005. Its objectives include making manufacturers identifiable, distinguishing historical waste from non-historical waste, and preventing electrical and electronic waste from entering municipal waste streams.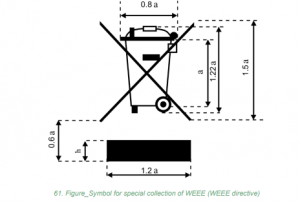 RoHS Directive (2002/95/EC)
The RoHS Directive restricts the use of six types of substances (Hg, Cd, Pb, Cr6+, PBDE, PBB) in products. Products that comply with these restrictions and do not contain these substances receive the RoHS COMPLIANT label.
"CE" Marking
The "CE" marking is awarded to products that meet the EU directive for Energy-using Products (2005/32/EC) and approximately 25 other EU directives. It guarantees that the product complies with EU safety, health, and environmental requirements.

End-of-Life Vehicles Directive (ELV – 2000/53/EC)
The End-of-Life Vehicles Directive obliges vehicle manufacturers to ensure that their vehicles are designed for optimal reuse, recovery, and recyclability. Specific recycling targets are outlined in the directive, specifying the percentage of the total vehicle mass that should be recovered or recycled.
Coding Materials for Recycling
Vehicle manufacturers are required to code the materials of vehicle parts in cooperation with material and equipment manufacturers. This coding enables the identification of components and materials suitable for recycling. This practice is closely related to the labeling of plastics.
Conclusion:
Understanding these labels and directives is essential for responsible product disposal and environmental protection.

Compliance with these directives contributes to safer and more sustainable products.

Consumers and manufacturers play vital roles in ensuring the success of these labeling and directive systems.
By understanding these labels and directives, consumers and manufacturers alike can contribute to environmental sustainability, product safety, and responsible disposal practices within the EU.
Go back