Lesson 7: ECO LABELS
In this lesson, we will explore the world of eco labels and their significance in helping consumers make informed choices while considering environmental impact.
Introduction to Eco Labels
Eco-labels are crucial tools for consumers seeking environmentally friendly products. However, the rise of fraudulent eco-labels has led to consumer suspicion and harmed honest producers.
European Union Ecological Symbol
The European Union Ecological Symbol, featuring a "FLOWER" with 12 blue, five-pointed stars, is designed to promote environmentally friendly products and services while aiding consumer recognition.
EMAS (Eco-Management and Audit Scheme)
EMAS encourages organizations to enhance their environmental protection efforts by reducing raw material usage, energy consumption, and waste production. It not only benefits the environment but also makes companies more competitive.
Descriptive and Promotional Labeling
Eco-labels can be descriptive, providing information such as "MADE OF 100% RECYCLED PAPER," or promotional, using terms like "ENVIRONMENTALLY FRIENDLY" for advertising purposes.
Blue Angel (Der Blaue Engel)
Germany pioneered eco-labelling in 1977 with the "BLUE ANGEL" label. It balances the market and highlights products and services that contribute to ecology, professional health, safety, and convenience of use.
Coexistence of Eco Programs
Multiple eco programs can coexist in one country, offering consumers a choice of labels. In the U.S., examples include "GREEN CROSS" and "GREEN SEAL."
Green Seal Eco Program
The "GREEN SEAL" program covers a wide range of products and analyzes their entire life cycle, including production, materials, energy efficiency, noise levels, and disposal.
Other Eco Programs
Various countries have their eco-labeling programs, such as Canada's "ENVIRONMENTAL CHOICE" and the "GREEN SWAN" ("NORDIC SWAN") label in Sweden, Norway, Finland, and South Korea.
EU Energy Label
The EU Energy Label, mandated by Directive 92/75/EC, classifies energy efficiency into seven classes (A-G) for products like household appliances and vehicles. Pictograms replaced words for international consistency.
Classification of Eco-Labels
The International Organization for Standardization (ISO) classifies eco-labels into three types: Type I, Type II, and Type III. Each type has unique characteristics and purposes.
Type I Eco-Label
Type I eco-labels are awarded by third parties, defining certification standards, and monitoring product inspection. Examples include "EPA ENERGY STAR" and "TCO'99."
Type II Eco-Label
Manufacturers make self-declared environmental claims for Type II eco-labels, adhering to ISO 14021 standards. Claims must specify a labeled environmental aspect.
Type III Eco-Label – Ecological Product Declaration (EPD)
Type III eco-labels provide quantitative environmental impact data for a product's entire life cycle. They include global warming potential, ozone-depleting gases, acidification potential, and more.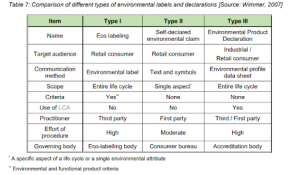 Conclusion
Eco labels are essential tools for consumers to make environmentally responsible choices. Understanding the types of eco-labels and their significance empowers consumers to make informed decisions.
Eco labels play a vital role in promoting sustainable products and encouraging businesses to adopt eco-friendly practices.
Go back