Why the circular economy is the business opportunity of our time
30. May 2022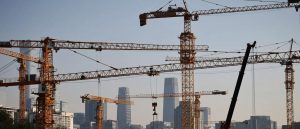 Sustaining our current consumption levels would require the resources of 2.3 planets by 2050.
Shifting to a circular economy, where we reduce, reuse and recycle, can decouple the world's growth from consumption.
A push for circularity in construction and cities can create jobs and reduce waste and carbon emissions.
Our global economy is growing, reaching an unprecedented $94 trillion in 2021 – with rising population, urbanization and living standards. Our challenge now is to keep up this momentum in a way that works for people and the planet.
The good news is that a solution is within our reach. We can decouple our world's growth from the consumption of the Earth's resources by shifting from a linear "take, make, waste" economy to a circular "reduce, reuse, recycle" one.
The business opportunity of our time
Creating a circular economy is the business opportunity of our time. It strengthens local economies in a socially-inclusive way, creating far more jobs than taking the traditional linear approach to waste. The repairing and leasing economy creates even more jobs. Enhancing circularity is an efficient lever to help society reach net-zero and by bringing our economy more into line with the Earth's boundaries circularity is also clearly nature-positive.
Construction at the forefront
Circularity is also good for construction jobs. Transitioning to a circular economy will create a host of new jobs, from recycling and repair all the way to digital and innovation-driven work.
At Holcim, we are putting the principles of "reduce, reuse, recycle" at the heart of our business model – and driving circular construction. To reduce the footprint of buildings, we are continuously advancing our portfolio of green building solutions, like ECOPact green concrete, which is sold at a range of low-carbon levels, from 30% to 100% fewer carbon emissions compared to standard (CEM 1) concrete. Where regulatory conditions allow, ECOPact+ concrete integrates upcycled construction and demolition materials.
In 2021 we recycled 54 million tonnes of material. Our goal is to double that to 100 million tonnes by 2030 and to turn even more construction and demolition waste (CDW) into new products – 10 million tonnes of CDW by 2025. We are well on our way, having launched Susteno, the world's first cement with 20% recycled CDW inside. Taking an example from our roofing business, our average residential roof uses 3,200 upcycled plastic bags and five upcycled rubber tyres.
To promote reuse, our advanced roofing, waterproofing, and insulation systems enhance the energy efficiency of buildings and extend their lifespan, making buildings last longer. Smart systems such as Airium – a proprietary mineral insulating foam technology – contribute to the building's insulation, as do our cool, green and insulating roofs.
By continuing on this path to create a circular economy we will come ever closer to achieving my vision for construction, which is to build more new from the old with recycled materials in every new building.
Circular economy will have cities at the centre
With our world's rapid urbanization, cities will be at the centre of this shift from a linear "take, make, waste" economy to a circular "reduce, reuse, recycle" one.
The city of Seattle, for example, recycles or composts nearly 60% of its municipal solid waste and aims to increase that statistic to 70% by the end of 2022. Elsewhere, the ITC Maurya Hotel in Delhi is a LEED platinum-rated hotel that recycles 99% of its solid waste and sources 30% of food and beverages locally.
When it comes to construction, cities like Zurich illustrate our sector's enormous potential. We launched Susteno there because the local authorities evolved their regulatory norms to allow cement with 20% recycled CDW inside. We look forward to expanding this offer to more jurisdictions as they follow suit.
With countless other examples arising around the world, we urgently need to understand what the most innovative circular cities around the world are doing to expedite this shift. That's why we've partnered with Bloomberg Media to create the Circular Cities Barometer to understand how cities are leading the shift to circular living for a sustainable future. Covering 25 cities representing all regions of the world, we hope these insights will help inspire other cities to take action to enable change. I invite mayors, planners, architects, and engineers to look into the Barometer to see how they can help drive a more circular economy.
When it comes to building in particular, Holcim is living proof that a circular economy in construction is possible right now. My call to action to everyone is to walk the talk to make circular construction a reality faster, by demanding and specifying it and adapting standards to make it mainstream.
Source: https://www.weforum.org
Published by CVTI