The Kearney CFX 2022 report: are fashion brands ramping up their circularity game?
10. May 2022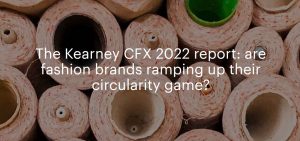 After the energy industry, the fashion industry is the world's second largest commercial polluter. The challenge of creating a sustainable, clean environment is so large no single industry can solve it by itself, no matter how well intentioned or successful any single initiative or set of initiatives may be.
Consumers have to be willing to support brands that credibly reduce their environmental impact and punish brands that don't. The same is also true for retailers and regulators. The United Nations-backed Fashion Industry Charter for Climate Action—which recently released updated science-based emission reduction targets—provides one example of how this shared-interest model might work.
During last November's COP 26 meeting companies increased their mid- and long-term goals, committing to halve emissions by 2030 and pledging to reach net-zero emissions no later than 2050. The updated charter set other ambitious targets including sourcing 100 percent of electricity from renewable sources by 2030, sourcing environmentally friendly raw materials, and phasing out coal from the supply chain by 2030. Collectively, the 130 companies and 41 supporting organizations that are signatories of the fashion charter represent a significant proportion of the industry.
To be effective, enforcement of global regulations and laws for circular materials, business models, and production processes must incentivize every link in the fashion value chain including the consumer.
The European Commission, which is building a comprehensive EU Strategy for Textiles, just announced plans to put an end to fast fashion as we know it by 2030. The EU's executive arm has proposed eco-design rules calling for mandatory minimum use of recycled fibers by 2030 and seeking to contain the release of microplastics. The EU also wants to adopt new rules similar to French regulations that went into effect this year banning the destruction of many unsold products.
In America, at the state level, the New York Fashion Sustainability and Social Accountability Act ("Fashion Act") and The California Transparency in Supply Chains Act call for changes in the social and environmental aspects of garment production, requiring mandatory audits and proof of manufacturer engagement in improving social and environmental impacts. In large garment-producing countries such as China or India, their "light" regulations are focusing on the control of environmental damages such as water pollution.
More and broader regulations are needed to make fashion brands, suppliers, and all players in the value chain accountable for global pollution. Addressing these challenges and commitments at a regional level, or by discrete supply chain sector elements, does not and will not solve the problem. All industry efforts must be aligned and harmonized across geographies, or we will just keep shifting problems from one corner of the world to another.
While fashion brand executives obviously cannot save the environment by themselves, there is much more they can—and should—be doing, starting with considering sustainability at every stage of the value chain.
A recent survey from Kearney of 30 executives from fashion brands shows the perceived level of complexity per sustainability objective and points at actions they plan to implement first, starting from increasing the share of recycled and eco-friendly materials to improving product traceability and reducing impact from over-production thanks to better planning and allocation capabilities.
More information:
The Kearney CFX 2022 report: are fashion brands ramping up their circularity game?