Swiss Circular Economy of Skills and Competences: upskilling platform to fill the educational gaps caused by the pandemic
15. December 2021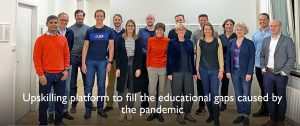 The Institute of Information Management at the University of St. Gallen (HSG) is promoting the circular skill economy: from February 2022 onwards, the Swiss Higher Education Institutions EHB, EPFL, UZH, ZHAW, as well as the HSG, will be working on the development of the Swiss Circular Economy of Skills and Competences (SCESC) under the leadership of Evrlearn founder Felix Schmid and HSG business IT specialist Dr. Roman Rietsche. The upskilling platform approved by Innosuisse is intended to enable people to pursue a self-determined career.
Several training generations are currently facing the greatest upskilling deficits of all times: the global economy is accelerating faster than ever before, new technologies are becoming part of everyday life, and remote work has exposed a majority of jobs to new worldwide competition. Crises such as Covid-19 are distinctly pushing digital transformation ahead.
Changes in the field of education and learning confirm the following discoveries:
digitalisation and automation: the demand for digital and technological skills will increase by 55% in the coming two years (McKinsey Global Institute);
poor predictability of one's own career: job profiles are changing faster and faster, as are their concomitant competence profiles. Developments that extend from one industry into another are becoming ever more frequent;
lack of awareness: a majority of the Swiss population is unaware of the fact that the new job market requires active upskilling (Deloitte Schweiz);
"the Great Resignation": In August 2021, 4.3 million people left their jobs as a consequence of the Covid-19 pandemic in order to regain control of their lives and careers, although the majority of them did not have any prospects of a new job.
System change and potential realisation
The project team of Swiss Circular Economy of Skills and Competences agree: it will take a systemic change to be able to cover individual people's and companies' enormous retraining and upskilling requirements. The individual potential of each and every one would have to be unleashed in order to be able to safeguard Switzerland's leading position in innovation and education. A new Swiss Circular Economy for Skills and Competences could bridge the gap between individuals, companies and education/training providers by reinventing the way in which people conceive of their skills, their career paths and their local labour market.
People will be acquainted with local job offers that fit the occupation of their choice, or with courses to train them for the occupation of their choice. All this will be supported by digital coaching and new communities which will make lifelong learning a new habit. A new, jointly created fund will provide everybody with access to upskilling measures. All this will be based on a shared language of competences and be run in good cooperation with the Swiss vocational training system.
Project start in February 2022
A transdisciplinary team consisting of strong educational leaders, highly qualified technical experts and experienced marketplace architects will start project work in February 2022. This work is intended to be highly product- and design-oriented and will take a total of four years. The team will map the complete "learner journey" in the new circular skill economy. In the light of the urgency of the situation, initial applications will be accelerated live.
Circular economy on five pillars
The so-called circular skill economy is intended to rest on five pillars:
a common language with regard to skills in order to align the still different conceptions of skills that people, companies and upskilling providers have;
highly specialised match-making: individual skills and ambitions will be brought together with upskilling options, people and jobs all over the world;
an impressive competence portfolio, which is intended to illustrate the range of people's own skills and be more expressive than, say, certificates and CVs. The portfolio will enable each and every individual to realise their potential and can be used as a "key" to the new world of work;
a digital coach that supports learners integratively and sustainably in such a way as to enable them to attain their goals as efficiently and effectively as possible;
new "lifelong learning communities", which extend beyond learning groups, fora and alumni organisations and make lifelong learning a new habit;
new technologies such as NLP, recommendation engines and blockchain: all the technologies will be interlinked on a platform to ensure that their full potential can be exploited.
Large network
The composition of the flagship consortium is highly diversified. The team will start work on the establishment of the Swiss Circular Economy of Skills and Competences (SCESC) in February 2022. Roman Rietsche of IWI-HSG, says: "Our network combines excellent expertise from research into marketplace architecture, education, motivational design and behavioural science, applying artificial intelligence in a useful manner to achieve a high impact. The intersection of vocational training, education and technology expertise truly follows the aim of enhancing future professional competence development. Additionally – probably most importantly – with the start-up Evrlearn we have a strong leader and a solid marketplace foundation to build the innovation on." Professional associations act as important gatekeepers for implementation within the consortium. A network-based governance model that integrates all stakeholders rounds off this comprehensive approach.
Felix Schmid, co-founder of Evrlearn, relates how after approval had been granted by Innosuisse, the members of the diversely composed team gelled and showed their commitment within next to no time. The combination of educational and technological building blocks, as well as a brand-new form of organisation for the development of innovation, were probably two of the crucial elements behind this.
The flagship consortium consists of the following members:
Research partners:
École Polytechnique Fédérale de Lausanne, Digital Vocational Education and Training Laboratory (D-VET) (Prof. Dr. Tanja Käser)
École Polytechnique Fédérale de Lausanne, Natural Language Processing Laboratory (UPBOSSELUT) (Prof. Dr. Antoine Bosselut)
Institute of Information Management of the University of St.Gallen (IWI-HSG) (Dr. Roman Rietsche)
Institute of Business Education and Educational Management of the University of St.Gallen (IWP-HSG) (Prof. Dr. Bernadette Dilger)
Swiss Federal University for Vocational Education and Training (Prof. Dr. Antje Barabasch)
University of Zurich, Institute of Education, Chair of Vocational Education and Training & Adult Education (Prof. Dr. Katrin Kraus)
Zurich Universities of Applied Sciences, Institute for Applied Psychology (Prof. Dr. Christoph Negri)
Implementation partners:
Axelra AG (Dr. Thomas Bocek
Evrlearn AG (Felix Schmid)
Associations:
SwissBanking + Arbeitgeber Banken (Dr. Alexandra Steinberg, Dr. Balz Stückelberger)
SwissICT (Christian Hunziker)
SwissMem (Dr. Sonja Studer)
Voices from the team
Prof. Dr. Antje Barabasch and EHB are pleased to have the opportunity to extend their knowledge of innovative learning cultures in vocational training and in-house adult education and to develop useful instruments and learning concepts for a better development of individual competences and skills.
For Claudia Beutter of ZHAW IAP, a circular economy is not only about the individual advancement of access to learning, but also has a learning effect on those involved in the project as it fosters network ability and cooperation as strategic competencies that are crucial to a high-quality and innovative Swiss economy, as well as to the country's educational landscape.
Prof. Dr. Bernadette Dilger of the Institute of Business Education and Educational Management at the University of St.Gallen perceives a great opportunity for unleashing individual competence development potential. The platform supports the convergence of individual career paths and changing professional profiles. In this process, individual transformation is linked up with the development of companies, as well as with the transformation of the entire vocational training system and the labour market. Her team is very grateful for its participation in this lead initiative, which aims at a reconfiguration of Switzerland's vocational training system.
Prof. Dr. Katrin Kraus of the University of Zurich is of the opinion that a strong linkage between innovative approaches and the traditional vocational training system is crucial to a broadly based initiative for higher qualifications, and that SCESC is looking for this balance in a promising manner.
Self-fulfilment and individualisation are playing an increasingly important role in today's world, finds Dominik Pfütze, a doctoral student at the University of St.Gallen. Thus social media presence, sports activities and eating habits are adapted to individual predilections. Why don't people adapt their education and training to their own preferences? Dominik Pfütze considers the interdisciplinary SCESC project to be an exemplary step in the direction of tailor-made education and training.
Contact point for queries:
Dr. Roman Rietsche, Institute of Information Management (IWI-HSG)
roman.rietsche(at)unisg.ch
Source: https://www.unisg.ch
Published by CVTI