Circular Cities and Regions Initiative
13. September 2022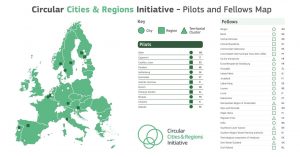 About the Circular Cities and Regions Initiative
Launched by the EU as part of the Circular Economy Action Plan, the Circular Cities and Regions Initiative (CCRI) focuses on implementing the circular economy across Europe's cities and regions.
The EU's transition to a circular economy will reduce pressure on natural resources and create sustainable growth and jobs. It will also help achieve the 2050 climate neutrality target set out in the European Green Deal. Europe's cities and regions are best placed to drive this transition, with many already drawing up their own plans.
The CCRI aims to increase synergies among projects and initiatives, disseminate relevant knowledge, and give greater visibility to best practices. Combining technical and financial support, it offers comprehensive support to stakeholders across Europe's cities and regions.
Selection of Pilots and Fellows confirmed!
We are delighted to announce that, after over 100 applications, 12 Pilots and 25 Fellows have been selected.
These cities, regions and territorial clusters cover 18 countries, with 13 participants in Western Europe, 11 in Northern Europe, 9 in Southern Europe, and 4 in Eastern & Central Europe.
By participating in the CCRI, the Pilots and Fellows will work closely with the CCRI Coordination and Support Office and each other to lead Europe's circular economy transition.
Their experiences and learning processes will also feed into the CCRI's knowledge base, for which this website provides a central hub. Make sure you subscribe to the CCRI newsletter to stay up to date.
Thank you to all stakeholders who applied and congratulations to the selected Pilots and Fellows! More information, including the full list of those selected, is available on the Pilots and Fellows page.
More information:
Source: https://circular-cities-and-regions.eu
Published by CVTI