CHF 100'000 from FIT for Composite Recycling and its circular economy solution
15. March 2022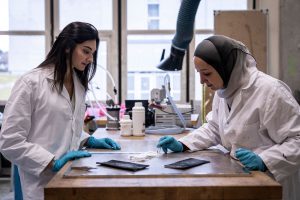 In close collaboration with École polytechnique fédérale de Lausanne (EPFL) in Switzerland, Composite Recycling has come up with a pyrolysis process to recycle and reuse composite materials from ship hulls and wind turbine blades. Thanks to the Tech Seed loan from the Foundation for Technological Innovation (FIT), Composite Recycling will set up near EPFL, continue tests and research and start industrializing the process to democratize circularity for composites.
Composite plastics are used in a wide variety of applications. Among them, Glass Fibre Reinforced Plastics have been increasingly used in the past 50 years thanks to their ease of use, durability, structural properties, and relatively low cost. These specific composite plastics are widely used in boat hulls, wind turbine blades, printed circuit boards, as well as automotive parts, train bodies, or airplane interior fittings. However, composite materials are designed to be durable, not recyclable. Because it is difficult to separate the glass fibres from the resin, end-of-life composite materials are thus landfilled or incinerated.
Composite Recycling has developed a specific pyrolysis process that carries out this separation to recover the glass fibres, and has developed a post-treatment with Laboratory for Processing of Advanced Composite from EPFL. Instead of trying to develop solutions that can process any type of waste, Composite Recycling designs recycling equipment specific for each type of waste to ensure maximal re-usability of the recycled fibres and optimize energy efficiency of the process. Components can then be reused in a new composite, making their economy finally circular.
With its sustainable technology, the startup founded in July 2021 first wants to address the market of recycling old boats, before targeting wind turbine blades. Led by Guillaume Perben, Pascal Gallo and Mitchell Anderson, Composite Recycling has already acquired its first clients among composite manufacturers, ship builders and aeronautical parts makers.
To date, the team raised interest of early investors and obtained distinctions from Impact Hub, VentureKick, Tech4Impact, as well as the EU Tech Chamber SDG Award. At the same time, Composite Recycling is currently conducting a seed round of CHF 1.3 Million to support its development.
Looking ahead and thanks to the Tech Seed loan from FIT, Composite Recycling is setting up its workshop and offices near EPFL in Ecublens, with the aim of continuing tests and research, and starting to industrialise its pyrolysis process in order to pave the way towards a circular economy for composite materials.
Source: https://fondation-fit.ch
Published by CVTI