Will car producers end up in Slovakia? Opportunities and risks of transformation of the automotive sector
Start: 8. March 2022 10:00
End: 8. March 2022 11:30
Organiser: EURACTIV Slovensko
Organiser contact: bajla@euractiv.sk
Event type: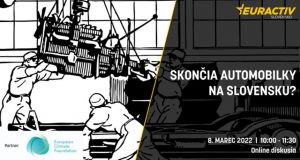 About the event
In recent years, the government and automotive producers have been announcing a major shift from internal combustion engines. Electric cars are in the best position to replace them. The automotive industry has a strong tradition in Slovakia. However, Slovak car producers will also have to adapt to the new situation. As many as 74 percent of Slovak exports go to countries that have confirmed the ban on the sale of cars with internal combustion engines by 2035. Slovakia's dependence on car production brings with it increased sensitivity to the trend away from internal combustion engines. If this diversion continues, Slovakia will have to adapt.
Questions for discussion
How are car manufacturers and suppliers in Slovakia adapting to global trends and how is the Slovak government reacting?
How to avoid the worst case scenarios and ensure the competitiveness of the Slovak automotive industry at a time of great changes?
How would the Slovak economy cope with the unmanageable transformation of the sector?
The following will discuss:
Peter Kremský, Chairman of the Committee of the National Council of the Slovak Republic for Economic Affairs
Erika Jurinová (tbc), President of the Žilina Self-Governing Region
Patrik Križanský, Director, Slovak Electromobility Association (SEVA)
Pavol Prepiak, Executive Director, Association of the Automotive Industry of the Slovak Republic
The discussion will be in Slovak, moderated by Michal Hudec, editor of the EURACTIV Slovakia portal.
If you are interested in participating in the discussion, please register here.
If you have further questions, contact at bajla@euractiv.sk.
Source: https://euractiv.sk
Published by CVTI