Let's Get Talking: Exploring Social Value in the Circular Transition, with EU Commissioner Sinkevičius
Start: 17. December 2021 14:00
End: 17. December 2021 15:00
Organiser: RREUSE
Organiser contact: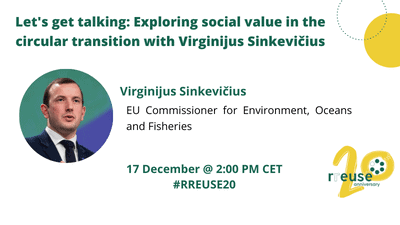 As part of their 20th anniversary celebrations, RREUSE are holding their third and last episode of the series Let's Get Talking with EU Commissioner Virginijus Sinkevičius on 17 December 2021 at 14:00 (CET). In this episode, the Commissioner will join RREUSE to explore the meaning of social value in the circular economy and whether social dynamics have been inherent factors in developing EU policies related to the green transition.
The webinar will also focus on the way forward in ensuring that tools such as the Social Economy Action Plan and the Circular Economy Action Plan work together to create a more favourable policy and funding environment for social enterprises, safeguarding a socially fair and inclusive circular transition.
Register here!
Virginijus Sinkevičius is the Commissioner for the Environment, Oceans and Fisheries, at the European Commission. From 2017 to 2019, Mr Sinkevičius was Minister of Economy, and prior to this he was leading the Committee of Economy at the Parliament of Lithuania. He was a Team Lead for Regulatory Affairs at Invest Lithuania before being elected to the Parliament in October 2016. Mr. Sinkevičius holds BA in International Relations and Affairs from Aberystwyth University and Master's degree in European International Affairs from Maastricht University.
Source: https://circulareconomy.europa.eu
Published by CVTI