Lesson 3: Design for compliance with regulations and standards
In this lesson, we'll explore the critical role of compliance with regulations and standards in eco-product design. Ensuring that products meet environmental and safety requirements is essential for sustainability and legal compliance.
EU REGULATION
The EU has a comprehensive framework of regulations related to eco-design and environmental protection.
Key Areas Covered by EU Regulation:
Solid Waste Management (SWM)

Energy Using Products (EuP) and Energy Related Products (ErP)

Industrial Machines

Restrictions on Hazardous Substances (RoHS)

Telecommunications and Radio Equipment

Product Safety
INTERNATIONAL STANDARDIZATION ORGANIZATIONS
International standards are crucial for ensuring consistency and quality in eco-product design.
Prominent International Standardization Organizations:
ISO (International Standardization Organization)

IEC (International Electrotechnical Commission)

ITU (International Telecommunications Union)
REGIONAL STANDARDIZATION ORGANIZATIONS
Regional standards organizations play a significant role in standardizing products for specific geographical regions.
Examples of Regional Standardization Organizations:
CEN (European Committee for Standardization)

CENELEC (European Standardization Committee in Electrotechnics)

ETSI (European Institute for Electro-Technical Standardization)

COPANT (Pan-American Standardization Commission)

MERCOSUR (South Common Market)
NATIONAL STANDARDIZATION ORGANIZATIONS
Each country has its own national standardization system and organizations.
Examples of National Standardization Organizations:
AUSTRIA: Austrian Standards Institute – ON

UNITED KINGDOM: British Standard Institution – BSI

GREECE: Hellenic Organization for Standardization – ELOT

ROMANIA: Romanian Standard Institution – ASRO

SERBIA: Institute for Standardization – SRPS
ISO 14000 SERIES STANDARDS
ISO 14000 series standards are pivotal in environmental management.
Areas Covered by ISO 14000 Standards:
Environmental Management System

Environmental Audit

Environmental Evaluation of Performance

Environmental Labelling

Evaluation of the Life Cycle of Products

Evaluation of Environmental Aspects in Production Standards
System and Product Oriented Standards:
ISO 14001: Environmental Management System

ISO 14004: Environmental Management System Guidelines

ISO 14010, 14011, 14012, 14015: Environmental Auditing

ISO/TR 14061: Informative Reference Material for Forestry Organizations

ISO 14031, TR 14032: Environmental Performance Evaluation

ISO 9000: Quality Management Systems

ISO 19011: Guidelines for Quality and Environmental Management Systems Auditing

ISO 14020, 14021, 14024, TR 14025: Environmental Labelling

ISO 14040, 14041, 14042, 14043, 14044, TR 14049, TR 14048, ТР 14047: Life Cycle Assessment

ISO GUIDE 64: Guide for Inclusion of Environmental Aspects in Product Standards

ISO TR 14062: Integrating Environmental Aspects Into Product Design and Development

ISO DIS 14063: Environmental Communication

ISO DIS 14064: Greenhouse Gases
ECO-MANAGEMENT AND AUDIT SCHEME (EMAS)
EMAS is a program within the EU that guides companies toward environmentally responsible product development.
EMAS Key Areas:
Compliance with new environmental laws and regulations

Company strategy for new markets

Adoption of new technologies in manufacturing or packaging

Changing customer expectations and lifestyles
Approaches to Measure Environmental Performance:
Input measures

Emissions/waste measures

Resource measures

Efficiency measures

Customer measures

Financial measures

Risk measures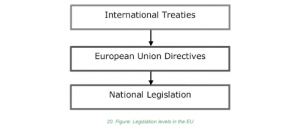 Conclusion:
Compliance with regulations and standards is essential for eco-product design to ensure environmental protection, safety, and sustainability.

International, regional, and national standards organizations play a pivotal role in setting the guidelines for eco-product design.

ISO 14000 series standards provide a comprehensive framework for environmental management.

EMAS helps companies integrate environmental considerations into product development.
Go back