Lesson 2: Designs for Reduction of hazardous substances, Reuse, Remanufacture, Recycling, and Energy efficiency
In this lesson, we will delve into additional eco-product design strategies, focusing on the reduction of hazardous substances, the promotion of reuse, remanufacture, recycling, and the enhancement of energy efficiency. These strategies are essential for creating environmentally responsible and sustainable products.
DESIGN FOR REDUCTION OF HAZARDOUS SUBSTANCES
Eco-product designers must prioritize the reduction of hazardous materials to safeguard human health and the environment.
Hazardous Materials:
Hazardous materials include those that are toxic, flammable, explosive, corrosive, contribute to ozone layer depletion, or contribute to global warming.

Products containing toxic substances should be labeled with proper disposal instructions, including decontamination and neutralization.
EU Directives:
EU directives such as RoHS and WEEE aim to reduce hazardous materials in electrical and electronic equipment to protect human health and the environment.
Batteries and Accumulators Directive:
The classification of batteries regarding toxicity is crucial for proper disposal.
DESIGN FOR REUSE
Designing products for reuse extends their lifespan, conserves natural resources, and reduces waste.
Benefits of Reuse:
Reusable products reduce natural resource consumption, energy usage, disposal needs, and costs.
DESIGN FOR REMANUFACTURE
Remanufacture involves disassembling used items, inspecting and repairing components, and using them in the production of new products.
Key Steps in Remanufacture:
Disassembly

Component restoration or replacement

Reassembly
Challenges in Remanufacture:
Remanufacture requires careful consideration in the early stages of product development.

Consumer reluctance and technological advancements pose challenges to remanufacturing in household appliances.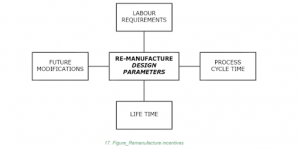 DESIGN FOR RECYCLING (DfR)
Design for Recycling aims to use recycled materials in production and facilitate product recycling at the end of its life.
Basic Requirements for DfR:
Eliminate or reduce the use of harmful or toxic materials that can pose risks to the environment and recycling workers.

Discourage the use of non-recyclable materials and manufacturing techniques that create non-recyclable products.
Key Design Considerations:
Replacement of primary materials with recycled materials.

Reuse of parts and components.

Use of compatible materials.

Identification of parts for easier recycling.

Modular design for easy disassembly.
Recycling Process:
Recycling begins with disassembly, either non-destructive or destructive, and materials separation.
DESIGN FOR ENERGY EFFICIENCY
Designing products for energy efficiency reduces resource consumption, pollution, and production costs.
Strategies for Minimum Energy Consumption:
Design products with minimal use of special materials.

Support consumers in replacing consumables and using reusable alternatives.
Standby and Sleep Mode Energy Consumption:
Devices in standby or sleep mode can consume significant energy. Efficient design can mitigate this waste.
LED vs. Incandescent Light Bulb:
LED bulbs offer significant energy savings compared to incandescent bulbs, as they generate less heat and direct more electricity to light production.
Conclusion:
Implementing eco-product design strategies for hazardous substance reduction, reuse, remanufacture, recycling, and energy efficiency is vital for environmental sustainability.

Designers play a crucial role in creating products that conserve resources, reduce waste, and minimize environmental impact.

Sustainable product design contributes to a cleaner and more resource-efficient world.
Go back