Lesson 3 – Recycling processes of ELVs
Welcome to third lesson of our online course on end-of-life vehicle recycling processes. In this course, we will explore a variety of WEEE recovery processes that allow the recovery of large quantities of reusable products.
When talking about end-of-life vehicles, it is important to remember that the most manageable waste is the waste that is easy to obtain. Thus, redesigning vehicles for a greener environment, including their longevity, reparability and recyclability, enforcing and improving existing laws, and researching better recycling processes can also help reduce the collection of waste from end-of-life vehicles.
According to European legislation, we must ensure that our vehicles are at least 85% recyclable and 95% recoverable, but we are moving forward to make this process as simple and efficient as possible. All car manufacturers should use initiatives such as parts marking and active cooperation with specialist partners to discover even better ways to recycle the vehicles of the future.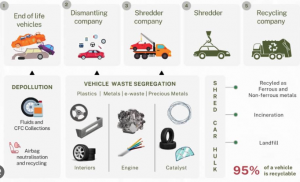 The car recycling process [https://vahanrecyclingindia.com/services/]
To encourage responsible and efficient vehicle disposal, authorized dismantling centers have been established in Romania, where vehicles can be taken for recycling.
The disassembly process will identify parts that can be reused, such as engine, battery, alternator and steering system. Liquids, gases and other materials and parts will be safely collected and, where appropriate, recycled. Disassembled metal bodies are often compacted and sent for shredding.
The use of recycled materials in manufacturing processes of various composites is becoming more and more important as mineral, materials are increasingly scarce. Because of their characteristics, recycling these thermosetting polymers is difficult, so it may be more advantageous to include recycled materials, such as fibers and recovered metals, in the production process.
The most sought after resources are copper and aluminum and cable recycling has been a profitable business for decades because these resources can be recycled over and over again. To achieve these steps, quality machines are needed for profitable recycling of cables, regardless of the type of dry cables, wiring wires, gelatin filled cables, greasy underground cables, etc.
Cable recycling facility – STOKKERMILL TURBOFLEX LINE
The modular design allows facilities to be expanded or upgraded with market changes, i.e. by adding a primary shredder to increase capacity, a separator to clean the plastic fraction to avoid metal loss, etc.
Go back