Lesson 5 Organizational Eco-Innovation & Automotive Smart Factory
Organizational eco-innovation & Smart Factory
Organizational eco-innovation means any new organizational methods and management systems for dealing with environmental issues.
A smart factory is a digitized manufacturing facility that uses connected devices, machinery, and production systems to continuously collect and share data. This data is then used to inform decisions to improve processes as well as address any issues that may arise [[i], [ii], [iii]].
The smart manufacturing practices used by a smart factory are enabled by a variety of technologies including artificial intelligence (AI), big data analytics, cloud computing, and the industrial Internet of Things (IoT).
Digitalization of AUDI global production
An element of the AUDI's digitalization efforts is the Automotive Initiative 2025 – AI25 for short– which was launched in early 2021. The initiative aims to create a global network of expertise for digital factory transformation and sustainable innovation. To this end, Audi Neckarsulm will play a pivotal role as a pilot factory and real-world laboratory. The long-established site already has extensive expertise in production IT for both high-volume and small-scale production. In addition, the initiative is intended to serve as a source of ideas and inspiration for the transformation of production and logistics throughout the Volkswagen Group. Over the next five years, digital solutions for vehicle production and the supply chain will increasingly be tested and developed through to full-scale production via AI25. The development of IT solutions for the smart production is being supported by academic institutions such as the Fraunhofer Institute for Industrial Engineering and the Technical University of Munich, as well as technology partners Amazon Web Services (AWS) and SAP. Custom-developed solutions and ideas are also expected to come from the joint venture "XL2" based in Heilbronn, which was founded last year together with Capgemini. This independent unit is focusing on SAP projects for production, master data management, and the development of cloud-based applications.
AUDI [[iv]]
Audi using digital solutions to make production more flexible and efficient
Audi Production Lab and Automotive Initiative 2025 integral part of the group's digital strategy
Audi's global production network will be part of Industrial Cloud in the future
5G, 3D printing, RFID, machine learning, and AI – cutting-edge technologies leading the way to the smart production
Audi is working at full speed to digitalize its production and, as a result, the working environment in areas such as planning, assembly, logistics, maintenance, and quality assurance at the five production facilities the company operates itself around the world. A number of groundbreaking projects with technologies such as 3D printing, 5G, apps, and virtual reality are already revolutionizing operational processes and creating synergies and new forms of global networking.
Efficient systems and new high-tech solutions are the basis for fully connected, digitalized production operations. With this clear vision, Audi is strategically aligning its processes with the future.  The Audi Production Lab is instrumental in the development of many forward-looking projects. The P-Lab, as it is known at the company, was set up by Audi in 2012 and is a kind of think tank for all topics related to production. Here, a core team of 30 employees develops ideas and tests new approaches together with their coworkers from production and logistics in order to further optimize efficiency, precision, and quality at the plants. The P-Lab has played a key role in helping technologies such as 3Dprinting, human‑robot collaboration, automated guided vehicles, and augmented and virtual reality make their way into large-scale production at Audi.
5‑1. Figure_AUDI Smart factory
1.RFID provides vehicle data throughout the plant; 2. Pearl chain concept syncronizes prodiction and logistics; 3.Driverless floor conveyors; 4.Driverless transport system; 5. 3D building scans; 6. Smart maintenance; 7. Virtual assembly planning; 8.Virtual container planning; 9.3D printing; 10.Paint shop cockpit; 11.AudiStream – virtual plant tour; 12 Vehicle localization drone
Renault: The Manufacturing Plant Of The Future
Renault's Industry 4.0, production plants shaped by the future
4 Key initiatives to drive digital transformation:
Real-time supply management As soon as a customer orders a vehicle, suppliers are informed, raw materials are prepared and logistics flows are established.
Real-time supply management As soon as a customer orders a vehicle, suppliers are informed, raw materials are prepared and logistics flows are established.
Continuous traceability Vehicle parts, assembly and packaging are tracked in real time, so customers can follow the progress of their order.
Data for planning Data are sent and analyzed continuously to conduct remote operations and simulations as well as to optimize maintenance.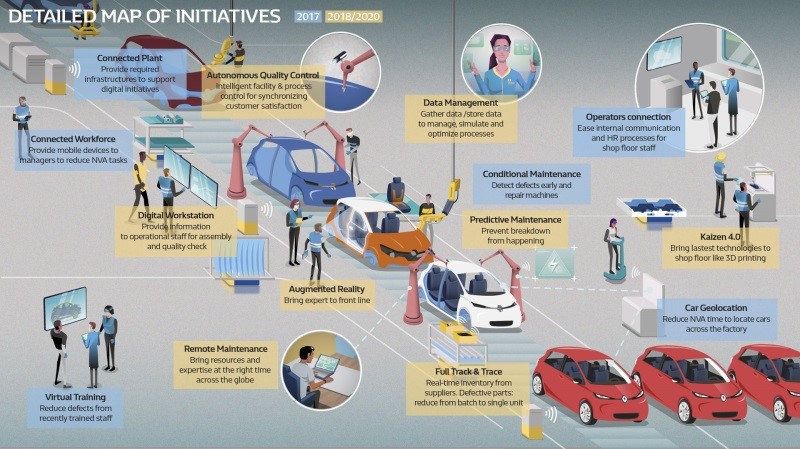 5‑2. Figure_Renault: The Manufacturing Plant Of The Future [https://www.renaultgroup.com/en/innovation-2/industry-4-0-production-plants-shaped-by-the-future/]
Renault Group launches the first industrial #Metaverse in the automotive industry.
100% of the production lines, i.e. 8,500 pieces of equipment, have been connected to collect more than 1 billion data every day! The industrial Metaverse is a true digital replica of the Renault Group's physical industrial ecosystem, controlled in real time to improve both production efficiency and the reduction of the industrial carbon footprint.
To achieve these objectives, it relies on 4 dimensions:
massive data collection,
digital twins of processes,
connection of the Supply Chain ecosystem and
a set of advanced technologies.
[i] https://www.automotivemanufacturingsolutions.com/digitalisation-and-automation/audis-edge-cloud-4-production-ecosystem-launches-into-serial-production/44426.article
[ii] https://www.robotindustries.ro/ro/smart-factory
[iii] https://www.automotivemanufacturingsolutions.com/industry-4-and-smart-factory/533432.subject
[iv] https://www.audi-mediacenter.com/en/press-releases/on-the-path-to-a-digital-car-company-with-smart-production-14196
[v] Audi Production Lab: The link between an idea and high-volume production, https://www.audi-mediacenter.com/en/press-releases/audi-production-lab-the-link-between-an-idea-and-high-volume-production-14782
Go back