Lesson 10 Trends that drive the automotive industry until 2030
In the third edition of the FAST study, created every five years in collaboration between Oliver Wyman and the German Automotive Association (VDA) was identified seven fundamental trends that drive the automotive industry until 2030, enabled and accelerated by digitization, AI and machine learning. The simultaneous "Mighty Seven Industry Trends" is a perfect storm of transformative technologies and changing customer behavior – which challenge the core business pillars the industry is built on.
The report identifies the trends impacting global manufacturers and suppliers as: connected vehicle, autonomous vehicles, e-mobility, digital industry, new pay-per-use distribution channels, changing customer structure and the human-machine interface.
As a consequence, the shape of automotive value creation is expected to simultaneously shift in three dimensions until 2030:
horizontally between vehicle systems,
vertically between industry players, and
regionally.
New business models expected to emerge
With shifting value pools across the field of vehicle components, nine new business models for auto suppliers are emerging, creating a need to re‑define their role and operating model to retain competitiveness. In parallel, both suppliers and vehicle manufacturers will have to foster holistic performance improvements to offset the needed investments and absorb other looming externalities.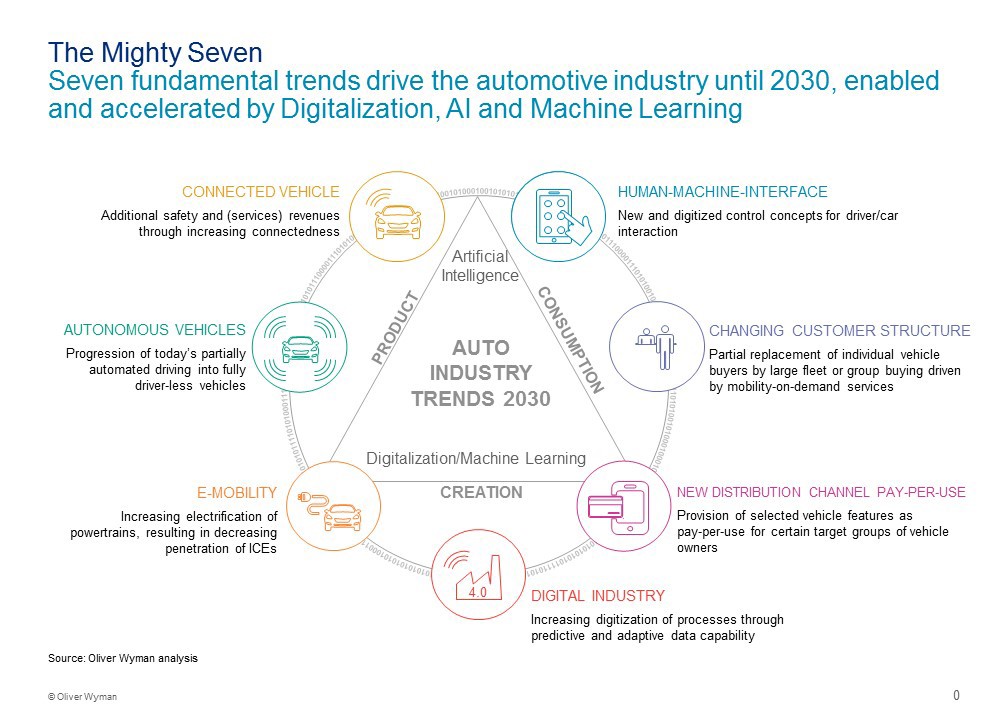 14‑1. Figure_ The Mighty Seven: Seven fundamental trends drive
[https://www.businesswire.com/news/home/20180621005944/en/Turbulent-Times-Ahead-for-Global-Automotive-Industry-According-to-New-Oliver-Wyman-Report]
Strategic options for automotive suppliers  are  cross-functional transformation of business operations.
Automotive specialists 2030:
Digitizer:Specialists for smart components and smart mechatronic
Digital integrators:Delivering digital modules and systems
E-Driver: Specialists for the E-powertrain
Ramp-downer: Specialists for the winding up of dated technology
Tier-0.5-Supplier: Between OEM and premium supplier
Direct sales: Direct selling specialist in the aftermarket
White-Label-contract manufacturer: Everything except branding
Digital service provider: Supplier of digital, data-based services
Hardware-Software-development service provider: The best out of two worlds.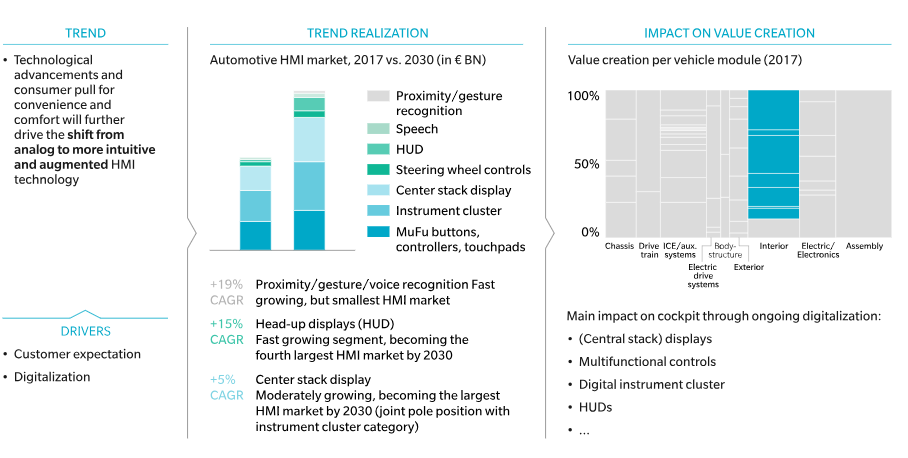 14‑6. Figure_Trend  Human-Machine-Interface (HMI)
[https://www.oliverwyman.com/media-center/2018/june/turbulent-times-ahead-for-global-automotive-industry-according-t.html]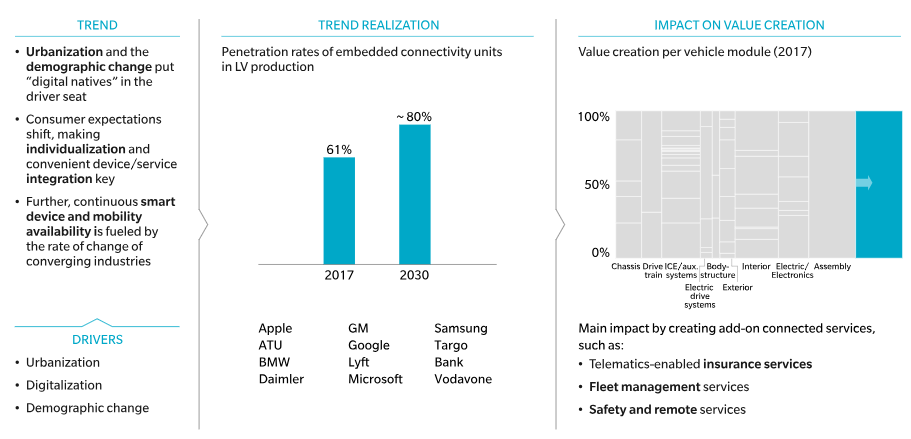 14‑7. Figure_Trend Connected Vehicle
[https://www.oliverwyman.com/media-center/2018/june/turbulent-times-ahead-for-global-automotive-industry-according-t.html]
Go back